Family-Owned & Trusted
Atlantic Transmission Service is a family-owned & operated full service automotive repair shop that has been serving the greater Baltimore and Glen Burnie communities since 2003. Owner and transmission repair specialist Ed Wright, as well as his team of ASE Certified automotive repair specialists and technicians are dedicated to ensuring their customers get only the best in auto repair services.
Baltimore's Automotive Experts
Atlantic Transmission Service offers a complete range of automotive repair services to the Baltimore area. Our team is expertly trained, qualified, and dedicated to ensuring the quality of our work meets industry standards and exceeds our customers' greatest expectations. From transmissions to brakes, alignments to suspension, our team can get you back on the road quickly and safely.
Peace of Mind Protection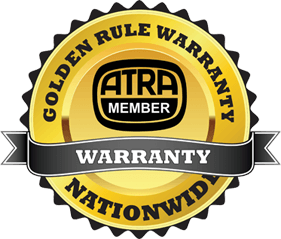 Atlantic Transmission Service is a proud member of ATRA, the Automatic Transmission Rebuilders Association and offers ATRA's Golden Rule Warranty to all of our customers. The Golden Rule Warranty is available in both 12 Year / 12,000 Mile and 3 Year / 100,000 Mile options and protects your rebuilt transmission at ATRA member shops from coast to coast.
Glen Burnie MD

Baltimore Transmission Repair

Atlantic Transmission Service is a full service transmission repair shop offering service to the entire Baltimore ~ Glen Burnie Maryland area. Each transmission specialist at Atlantic Transmission Service is professionally trained and ready to provide their expertise at repairing and servicing transmissions for any and all of your manual and automatic transmission repair needs.

The Atlantic Transmission Service shop is member of ATRA, the Automatic Transmission Rebuilder Association. As an ATRA Baltimore MD transmission shop, Atlantic Transmission Service conforms to the service and repair definitions that make up the ATRA code of ethics and bylaws.

Atlantic Transmission Service promises to each of our customers that our Baltimore ~ Glen Burnie transmission shop will not remove a transmission from a car or truck to complete a repair unless we are required to do so. Furthermore our transmission shop promises to diagnose problems with transmissions for all of our customers in an honest and professional manner. Our transmission shop makes every attempt to provide prompt and courteous service to everyone visiting auto transmission shop in the hope that they will come back to us for all of their automotive transmission repair needs.

Browse our website and if you have any questions, don't hesitate to come by, e-mail or telephone us at 410-609-1277 as we are always here to assist you.

Atlantic Transmission Service is proud to included with the following auto repair companies.
TESTIMONIALS
I love my car and am very happy on the service they did. They even topped the air in my tires! I highly recommend Atlantic Transmission.
Erik Standish
Glen Burnie MD
Prices are reasonable and the crew is trustworthy and educated in their field
They were very professional and courteous. I am very satisfied with Sharp Transmission Service.
Patrick Cotter
Ferndale MD
You want the best, you got the best!
Great service thanks to Ed! Would highly recommend to anyone because they also offer full service!!
Donna Hartsell
Pasadena MD
It is nice to walk into a place where they talk to you and explain things rather than just take your keys and say we'll call you when we know what is wrong.
Fred Rasmussen
Ferndale MD
They handle all my car care needs - most recently valve cover gasket replacement - expertly, reasonably & always in a timely manner.
These guys really care and know their business. I would recommend them to everyone!
Laura Miller
Glen Burnie MD
I highly recommend Atlantic Transmission to anyone wanting top quality service.
Special Offers & Savings
Atlantic Transmission Service invites those interested in saving on various automotive repairs our auto repair shop offers to check out the special offers provided below.
FREE
Check Engine Light Offer
Check Engine Light On? Get a Free Inspection!
Atlantic Transmission Service
6027 Olson Rd
Brooklyn Park MD
21225
Weekdays:
8 AM to 5:30 PM
Closed Weekends